Fleet 80 Canuck
The beginnings of the Fleet Model 80 Canuck go back to 1939, when J. Omer (Bob) Noury, an air engineer with the Ottawa Flying Club, decided to design and build a light aircraft for the Canadian market. The aircraft was a high-wing monoplane of conventional structure using a welded steel-tube fuselage and tail surfaces, and powered with a 65-horsepower Continental flat four-cylinder engine. The Noury T-65 Series 1 design was first flown on January 21, 1940. The aircraft was given a certificate of airworthiness and Noury sold it in 1941.
In 1942 he formed Noury Aircraft Ltd. at Stoney Creek, with himself as president and general manager. His intent was to design and build a light aircraft based on his own monoplane design. The Noury N-75 featured side-by-side seating and a 75-horsepower Continental engine. It was test flown from the Hamilton Airport at Mount Hope late in 1944.
Fleet Aircraft felt that the side-by-side design aircraft met most of their specifications, so in May 1945 they purchased the prototype and design rights for the plane from Noury Aircraft.
The Noury was shipped to Fleet's facilities at Fort Erie and test flown by Fleet's test pilot, Tommy Williams, on June 4, 1945. This resulted in modifications to the forward fuselage geometry, lowering the engine four inches to improve the forward visibility, and moving the engine forward four inches to allow the relocation of the fuel tank from the centre section of the wing to the forward fuselage. This made possible the installation of a clear skylight in the cabin roof. The original Continental C-75 engine was replaced by a more powerful Model C-85, and a new fin and rudder were installed. The Canuck was first flown in its modified form on September 26, 1945.
The side-by-side seating in the Fleet 80 Canuck was unusual for the period even though it was a far better arrangement for instruction than placing the instructor either in front of or behind the student.
Between 1945 and 1948, 198 Canuck aircraft were built by Fleet. The Canuck proved popular and initially sold well to flying clubs, charter companies, and private owners in Canada. In addition 24 were exported. By late 1947, plagued by postwar financial difficulties and the sales slowdown that affected all aircraft manufacturers, Fleet was forced to terminate production of the Canuck model.
The Museum's Canuck was flown in Alberta for about 20 years before joining the Musum in 2003.
Technical Details:
Serial: 220, CF-HOU
Manufacture: 1955
Engine: 85 hp Continental C85 horizontally-opposed
Maximum speed: 111 mph (178 km/h)
Cruising speed: 93 mph (149 km/h)
Empty: 934 lb (423 kg)
Gross: 1,480 lb (671 kg)
Span: 34 ft 0 in (10.3 m)
Length: 22 ft 4.5 in (6.8 m)
Height: 7 ft 1 in (2.1 m)
Wing area: 173.5 sq ft (52.8 sq m)
(Photo credit: Wikimedia)
Progress Report, May 2012
The Canuck is coming together nicely and work has begun rigging the tail section. We'll continue to post photos and updates as they become available.

Progress Report, March 2012


Things are moving along a good pace over at Ray's place. More photos will be posted as they come.

Big thanks to Ray and his team for an awesome job



The Canuck fuselage is finally home in the CMF hangar!

April, 2012 - Masking removed, paint scheme takes shape!

April, 2012 - masking removed



April, 2012 - Blue coat goes on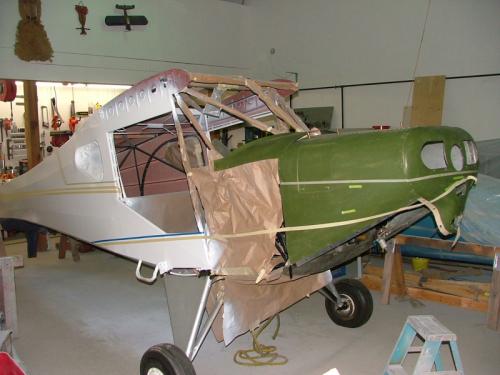 April, 2012 - Front cowl and gear installed to setup the masking for the pattern

April, 2012 - White coat goes on

first coat complete ~ March 15, 2012

Ray starts the first coat of silver ~ March 15, 2012

tail all tied together nicely ~ March 15, 2012

Masking/taping just about done and ready for spray coats ~ March 13, 2012


Left to right ~ Chris, Bill and Ray hard at work on a Wednesday afternoon

Bill (rear) and Ray (front) turn the Canuck fuselage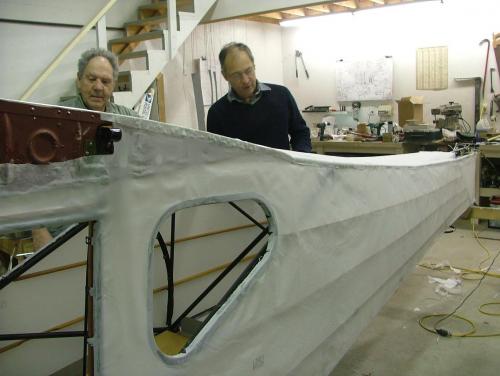 Progress Report, Feb 2012
The fuselage was taken out of storage and moved to Ray's place for fabric. Once completed it will return to the museum for further assembly.
The Canuck fuselage laying on it's side (bottom facing camera)
Ralph, Terry, Ray and Bill ~ Ray cutting the first length of fabric
A look inside at the Canuck's flight controls
Progress Report, July 2011
The preliminary activity on the Canuck has been completed with certification of the work by a licenced Aircraft Maintenance Engineer. The components are now in storage awaiting the start of fabric covering of the wings and fuselage later this year.
Progress Report, April 2011
The wings have been trial fitted to ensure the alignment of all components. If you are wondering why you can see through the Canuck's skeleton, it is because of the typical construction methods of the 1940s. The fuselage is steel tube with wooden battens used for shaping, the whole lot then being covered with cotton. These days we use a modern, long-lasting synthetic fabric covering. The wings are aluminum alloy structure also covered with fabric. Many coats of special finish are applied to make the covering aerodynamically smooth and long lasting.
Progress Report, March 2011
The wings have been trial-fitted to the fuselage - a sound procedure that confirms all components are in alignment before fabric covering is started. The final structural work on the wings is well under way with skinning of the leading edges with aluminum sheet almost completed. Flight controls and their control cables, as well as navigation lights and wing struts have been prepared for final assembly.
In addition, preparation is well under way for the permanent mating of the wings to the fuselage with the installation of the landing gear. Although our fine old lady may feel a little embarrassed by being rudely hoisted, engine-less into the air for the fitting of her wheels, she will soon feel comfortable in her new set of fine fabric clothing.
The final work on the wings is under way.
Back on her wheels again!
Progress Report, July 2010
Wing structural components in final assembly.
Progress Report, May 2010
Wing structure ready for assembly.
Progress Report, October 2009
Fuselage prepared for covering with fabric.
Progress Report, November 2008
Cockpit awaiting interior fitout.
Wing components awaiting assembly.