The Canadian Museum of Flight is presenting a series of informal technical talks on aircraft in its fleet. These talks will cover topics ranging from the history of the company; the history of the aircraft type; its development; production methods and places; the history of the engine and its development.
Also covered will be the challenges in maintaining and flying these classic aircraft in today's environment; how the mechanics find the parts and how the pilots keep current on flying a 70 year old flying machine designed before the dawn of the jet age.
This will be followed by details of how the aircraft is prepared for flight; how the engine is started; followed by an engine start and flight.
During the proceedings a draw will be conducted entitling the lucky winner to a flight in the aircraft being discussed (some conditions apply).
Reuben Fleet grew up near Grays Harbor, Washington Territory. He was a military officer, school teacher, realtor, WW1 Army pilot and many other things. He formed Consolidated Aircraft that built the PBY patrol aircraft and the B-24 bomber. What does this have to do with the Fleet Finch and the Fleet Canuck that the Museum owns? Come to the Museum and find out.
The Fleet Finch in RCAF service.
A typical TechTalk day;
Sgt. Michael Montano of 746 Lightning Squadron (Royal Canadian Air Cadets)
stands with Moth Pilot George Serviss before their flight.
Moth Pilot George Serviss straps Michael into the Moth prior to their flight briefing
CMF Pilot Bill Findlay 'prop starts' the Moth. A nice 2 blade start!
CMF photographer Mike Luedey stands next to the chase plane for this flight,
a Cessna 180 owned and operated by Rick Church. We were lucky enough
to have a chance to photograph Michael's ride air to air!
The Moth flies over a scene setting befitting of her past
Michael (Front) and George head north towards the Fraser River
The Moth turns back towards home
Michael and George are back on the ground at Langley Regional Airport (CYNJ)

Photos by Mike Luedey

Photos from TechTalk: Tiger Moth -

CMF President Bruce Bakker addresses the group before the session begins
Vic Bentley takes the group through a historical journey of the de Havilland Company
and the aircraft and engines they produced over those years
A rare opportunity for those in attendance to get up close and personal with
the aircraft that would normally be behind the ropes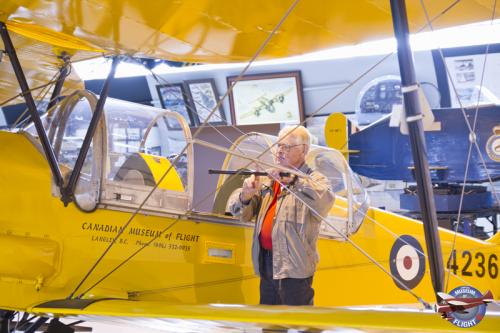 CMF Moth Pilot George Serviss discusses flying the Moth and the walk-around
procedures he follows before each flight
Rick Church talks about the mechanical end of the Moth as well as
'hand propping' and the dangers associated with it.
Photos by Mike Luedey