"Elsie" MacGill
Canada's 'Queen of the Hurricanes' honoured in Heritage Minute TV spot.
For its latest Heritage Minute, Historica Canada dipped into Vancouver's past, via Fort William, Ont.
Queen of the Hurricanes
looks at the remarkable career of Elsie MacGill, a Vancouver native who was the world's first female aeronautical engineer. During the Second World War, MacGill oversaw production of more than 1,400 Hawker Hurricane fighter planes at the Canadian Car and Foundry plant in Fort William (now Thunder Bay).
The new video can be seen at histori.ca/ElsieMacGill
The Hawker Hurricane was one of the workhorses of the Royal Air Force during the Battle of Britain, downing more German planes than the more famous Spitfire. The Heritage Moment features a male newspaper reporter interviewing MacGill at the plant, walking through the production line and onto the field to see a Hurricane being tested. MacGill deftly brushes off the reporter's sexism as she shows off a factory that had been completely retooled, and was producing up to 100 Hurricanes per month.
"She's a very cool subject," said the TV ad's director, Scooter Cortle. "A very strong woman. We were very lucky to be able to tell her story." That said, cramming MacGill's accomplishments into a one-minute ad "was a challenge."
MacGill was born in Vancouver on March 27, 1905, into a family with strong female role models. Her grandmother was a suffragette, a cause taken up by Elsie's mother Helen, a one-time journalist who was named the first female judge in B.C. in 1917.
In 1927, MacGill became the first woman to graduate with a bachelor of applied science in engineering from the University of Toronto. She then took a job at Austin Aircraft in Pontiac, Mich., earning a master's degree at the University of Michigan in her spare time.
Unfortunately, in 1929, she contracted polio, and returned to Vancouver. She recovered but walked with a cane the rest of her life.
In the early 1930s, she left Vancouver to study at the Massachusetts Institute of Technology in Cambridge. Her first big job was designing a military training plane, the Maple Leaf. On Dec. 15, 1939, The Province ran a photo of MacGill with the plane, alongside the headline: "Designed by city girl."
But by then she was working on a much bigger project: the Hawker Hurricane. The English company that designed the plane could see war on the horizon, and sent its plans to Canada so it could be produced outside of England.
"In January 1939 we got 5,000 drawings of the Hurricane," MacGill told the Winnipeg Tribune on May 10, 1941. "From then we designed and made the tools (to produce the plane). The first Hurricane made in the plant flew in January 1940."
MacGill was the subject of a profile in This Week magazine in the U.S. that ran in newspapers across America.
"Meet Elsie MacGill, chief engineer of Canada's great Hurricane Fighter factory," it read. "You will learn why a crippled girl bosses one of the biggest warplane plants in all the British Empire —- and you'll like this girl." MacGill was embarrassed at the attention.
The Vancouver Sun named her one of Vancouver's Women of the Year in 1940, and in January 1942, she was dubbed "Queen of the Hurricanes" in an issue of True Comics, an American publication.
MacGill died while visiting her sister in Cambridge, Mass., on Nov. 4, 1980. In 2019 she was the subject of a Canadian stamp and in 1971 was named to the Order of Canada.
jmackie@postmedia.com (Vancouver Sun October 2, 2020)
In cooperation with a photo shoot by
Brendan McAleer,
the Museum provided the backdrop with
the 1937 Waco AQC.
Elsie drove a Ford Roadster Deluxe similar to the one in the photo.
More on this event in the link to the Hagerty story at the end of this article.
What was it like to produce a fighter aircraft in pre-WW2 Canada? Was it a small building at a remote airport with a few men sawing lumber to make wings while others welded and bent metal for parts? No! this was a serious manufacturing effort aimed at mass-producing a top-of-the-line British fighter – the Hawker Hurricane.
Canadian Car & Foundry (CC&F) was established in 1909 in Montreal as the result of an amalgamation of three companies. Buses were produced at Fort William, Ontario and railcars in Montreal and Amherst. Streetcars were manufactured between 1897 and 1913. In the latter part of World War I, the company opened a plant in Fort William (now Thunder Bay) to manufacture rail cars and ships. In an attempt to enter the aviation market, CC&F produced 55 Grumman GE-23 Goblin fighter aircraft, a biplane trainer- named the Maple Leaf-and developed an unsuccessful, indigenous-designed fighter aircraft, the Gregor FDB-1.
The Gregor FDB-1 under test in December 1938. [Wikipedia]
By 1939, with war on the horizon, CC&F was contracted by the Royal Air Force to produce the Hawker Hurricane. Refinements introduced included skis and de-icing gear. When the production of the Hurricane was complete in 1943, CC&F's workforce of 4,500 (half of them women) had built over 1,400 aircraft, about 10% of all Hurricanes built. O
ne thousand one hundred Hurricanes were officially imported into England from Canada between March 1940 and June 1943.
Following the success of the Hurricane contract, CC&F received a production order for the Curtiss SB2C Helldiver, producing 834. In the 1950s CC&F also built 570 North American Harvards, many of the aircraft being supplied to European air forces to train post war military pilots.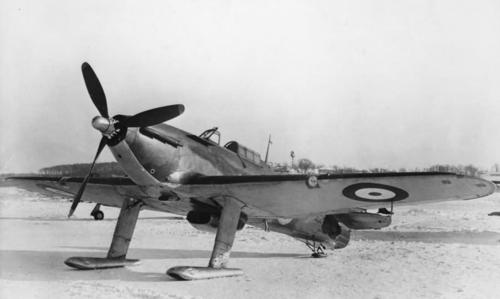 Hurricane
XII 5624
with ski undercarriage 1942. The ski equipment was not used operationally. [www.worldwarphotos.info]
De-icing equipment of RCAF Hurricane 321. [CMF 180-1]
This version of the Hurricane produced by CC&F for the Royal Navy was the Sea Hurricane for fleet defense. This Hurricane is being refueled on HMS Argus. [www.pinterest.ca].
The scale of operations to produce the Hurricane are shown in these photos from the Museum files. Remember, before this, CC&F built fighters under licence and produced prototypes of a biplane trainer and a biplane fighter – not exactly high-rate production and definitely not of a modern high-speed fighter.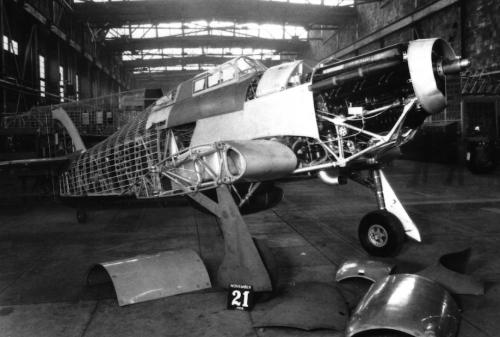 Fabric has not yet been applied to the rear fuselage of the first production Hurricane,
P5170 on 21 November, 1940. [CMF 158]
Mass production of wing parts – mostly leading edge ribs. 26 September, 1940 [CMF 203a]
Completed Mk. I fuselages in storage awaiting delivery. 18 September, 1941. The Hurricane in foreground, RAF serial AG326, was diverted to the RCAF as 1373. It was Taken on Strength on 11 February 1942 and delivered to stored reserve on 30 April 1942. To CC&F from 2 September to 18 November 1943 for conversion to Mk. XIIA. To No. 1 Operational Training Unit at RCAF Station Bagotville, Quebec when completed. To stored reserve on 17 November 1944. Available for disposal from 21 April 1945. Had 480:55 airframe time when Struck off Strength on 12 July 1946. [CMF 217a]
A Hurricane Mk. IIB/Can showing installation of Hamilton Hydromatic propeller.
27 April, 1942 [CMF 223a]
This was the method of storing completed Mk. I fuselages awaiting shipment. About 30 fuselages are visible. 26 November 1941. Hurricane AG331, delivered to the RAF, is visible at right. [CMF 227a]
CC&F also repaired Hurricanes that were in service and needed repairs or modification.
Hurricane BW835 accident at Chatham, NB on 26 May 1942. [CMF Hurri BW835-2a]
The official record for this aircraft shows:
BW835 Hawker Sea Hurricane / Hurricane/ Mk. XIIA
Taken on strength at No. 118 (F) Squadron, Dartmouth 22 April 1942. Probably stored at Dartmouth for RN before transfer to RCAF. Served with No. 126 (F) Squadron at RCAF Station Dartmouth, NS in 1942. Category C crash at Chatham, NB on 26 May 1942. Coded "BV*F". Back to Canada Car and Foundry for conversion to Mk. XIIA, 2 June to 9 September 1943. To No. 1 (F) Operational Training Unit at Bagotville, PQ when complete. Category A crash, probably in September 1944. Struck off 16 October 1944.
(The Hurricane Mk. XIIA has a 1,240 hp Packard-built Merlin and an eight-gun Mk. I wing.)
At least eight Mk. I and eleven Mk. II were lost at sea on the way from Canada to England.
For more on the Elsie MacGill story, see:
Royal Aviation Museum of Western Canada